Woohoo!! It's Friday and the first day of summer vacation!
Words can not express how happy and relaxed I am feeling today. These past few weeks have been exhausting and now I'm so excited to spend all summer chillin' with my boys.
Connor's preschool had a little graduation ceremony. I can't believe he starts kindergarten in the fall. Where has the time gone?
My mom flew in for a few days to surprise Connor at his graduation. It's always such a nice treat to have her down here.
I hosted a Wine Pairing & Tasting party Saturday night. We had a blast. I highly recommend any party that involves eating and drinking!
Connor made a Father's Day card at school. Notice the NY Giants? He sure knows what his daddy loves:)
How was your week?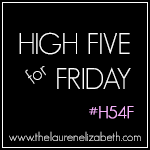 Linking up with Lauren