Happy Friday!
1.  Connor on 3rd base.  His coach and my husband were joking with him and told him to steal home base.  He then replied "I don't steal things!"
2.  Sunflowers from my hubby.  He definitely knows how to make me happy.
3. S'mores pizza.
4.  Chillin' on the beach
5.  Retail therapy!!  Charming Charlie is a dangerous store to go into.  They have so much jewely and I just want to buy everything.
Hope everyone has a great weekend!!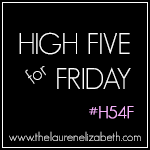 Linking up with Lauren