Guess what starts Sunday, August 10th?  Shark Week!
Woohoo!!  We are huge fans of Shark Week and we're celebrating at Cold Stone Creamery.
We headed there this week to check out their Shark Week treats.  After sampling a few of their flavors, we decided to get a pack of their Great Blue Cupcakes.
And let me tell you – they were delicious!!  My favorite part was the blue sweet cream ice cream.  Connor's favorite part was the chocolate cup that the cupcake comes in.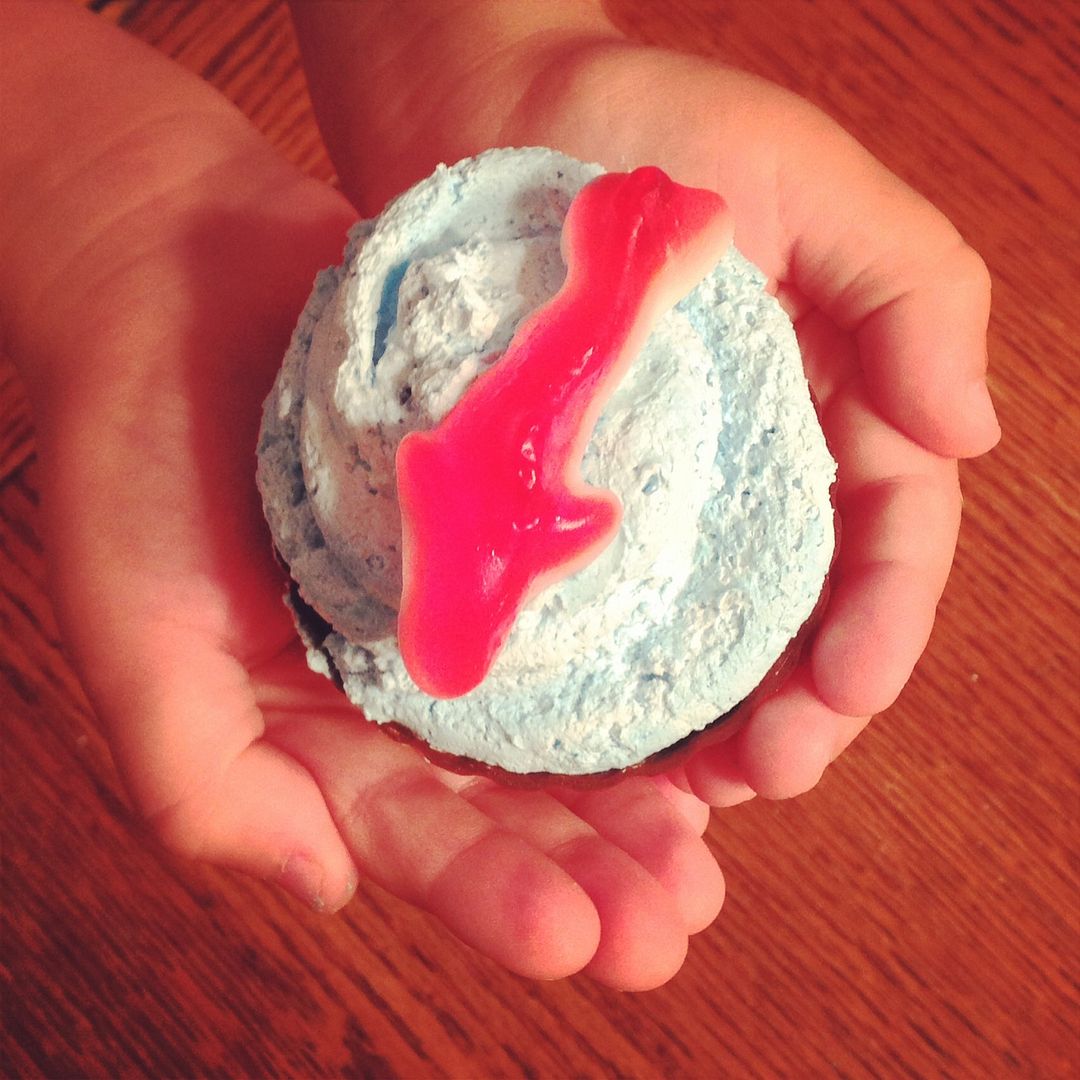 Discovery Channel™ Shark Week begins August 10th.   Cold Stone and Discovery™ have teamed up again for Shark Week!  They've gone shark crazy and are celebrating with these new items:
Great Blue Cupcakes (6-packs): A rich Chocolate Cup filled with a layer of Yellow Cake and Blue Sweet Cream Ice Cream topped with fluffy Blue Frosting and a Gummy Shark.
Shark Week Frenzy Ice Cream Creation: Blue Sweet Cream Ice Cream with Graham Cracker Pie Crust and Gummy Sharks.
And now it's time for you to get shark crazy.  I've rounded up 10 awesome shark crafts.
Shark Visors / Shark Paper Lanterns by Parenting Tips 365 / Shark Attach T-Shirt by Made By Me and Shared with You / Crochet Shark Hat Pattern by Repeat Crafter Me / Shark Fin Straws / Shark Hooded Towel by Crazy Little Projects / Tissue Box Shark / Shark Pinata by A Happy Mum / Shark Koozie / Toilet Paper Tube Shark by Craft, Interrupted
So start planning your Shark Week party and make sure you order Great Blue Cupcakes Online at ColdStoneCakes.com or pick some up at your local Cold Stone.  These yummy treats are available from July 2nd to August 17th!