This shop has been compensated by Collective Bias, Inc. and its advertiser, MARS Incorporated. All opinions are mine alone. #BOOItForward #CollectiveBias
It's officially Halloween season and I couldn't be happier.  I made myself wait until the first week of October to start putting the decorations out around the house.  And, trust me, that was really hard for me.  I was ready to start decorating three weeks ago:)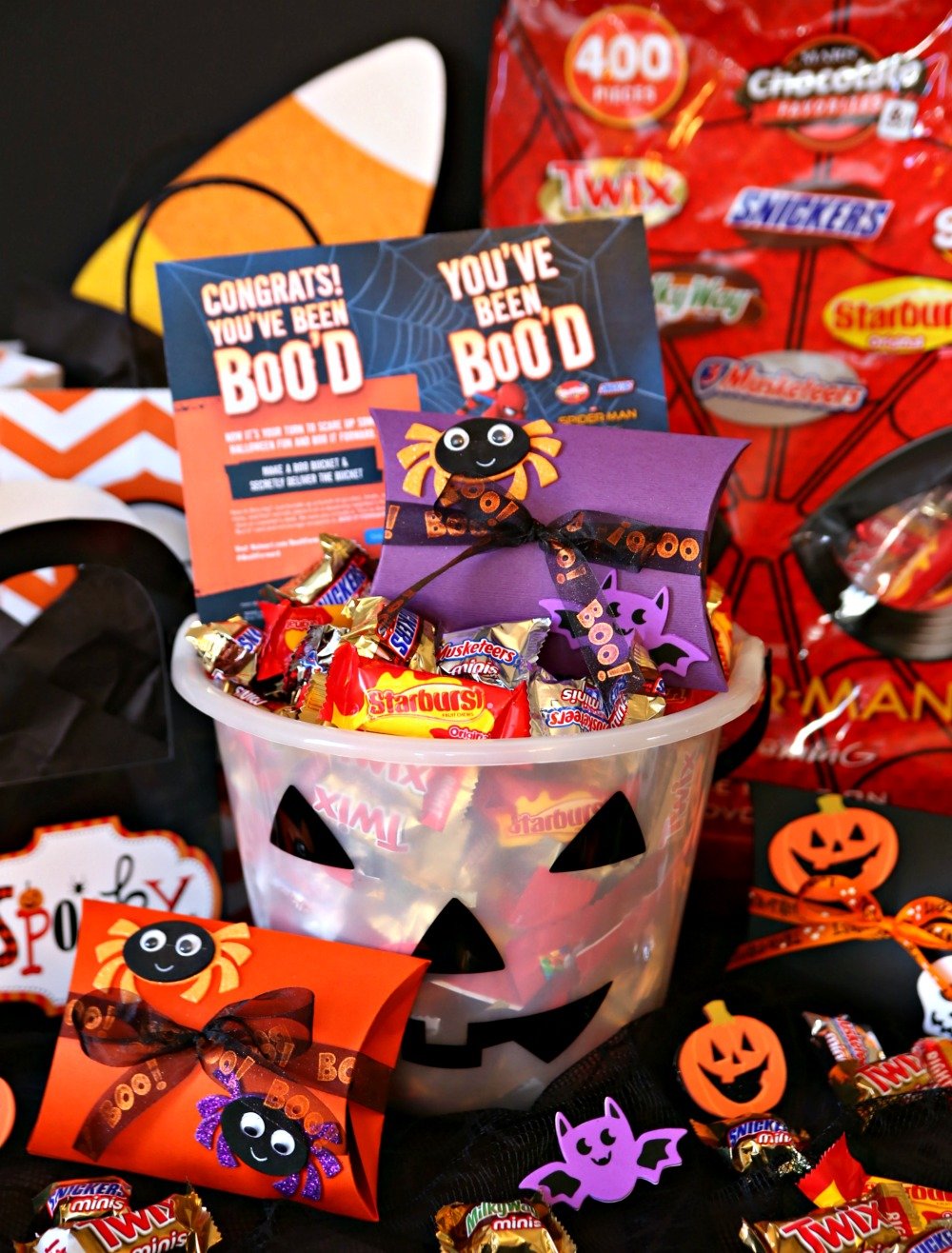 Interested in finding the MARS® Variety bag for your BOO Kit? Hover over the photo to click through to Walmart.com and buy it.
Now that the house is decorated, Connor and I are ready to start BOO'ing our neighbors.  We love coming up with creative new ways to BOO our neighbors.  This is something that Connor and I have been doing together for a few years and I'm so excited to continue the tradition.  I think Connor's favorite part is being able to deliver the treats without being seen.
To continue on with our BOO'ing tradition, we're making Halloween Pillow Boxes full of candy.  Woohoo!  Let's do some friendly neighborhood BOO'ing!!
Are you new to BOO'ing your neighbors?  It's such a fun idea.  You just put together little treats for your neighbors and surprise them by leaving them on their doorsteps.  Connor's favorite part is doing it without anyone knowing it was us.  Sometimes he even gets to ring the doorbell and run.  What's not to love about that?!
So, are you ready to make these fun Halloween Pillow Boxes so you can start BOO'ing all your friends and neighbors?
Start by grabbing your candy at Walmart.  It's the perfect time to start stocking up on all that Halloween candy you're going to need.  And, I've learned the bigger the bag, the better because our Halloween candy goes quickly.  That might also be because my hubby sneaks it before Halloween.  I better hide these bags before he finds them.
Next, grab some cardstock, Halloween ribbon, Halloween stickers, double sided tape, and scissors.  Yep, you read that correctly.  These fun treat boxes only require FIVE craft supplies and are so easy to make.
Cut out your pillow boxes.  I used this template.  Score the dotted lines using the point of your scissors.  Tape the sides together and fold pillow boxes along rounded edges.  Add Halloween stickers.  Close one side of the pillow box and fill the other end with candy.  Close other end of box and add Halloween ribbon.
Print out the FREE You've Been BOO'd card so everyone knows how to BOO it forward.
Now you're ready to BOO your neighbors with these cute Halloween Pillow Boxes.  Walmart also has a fabulous collection off American Greetings Halloween cards, gift bags, and more to help make your BOO'ing adventures fun and faBOOlous.
So, what are you waiting for?  Head to Walmart and stock up on the jumbo bags of MARS® Chocolate/Sugar Variety Bags of Halloween candy.  These are only available at Walmart and perfect for all your Halloween festivities.
And, make sure you pick up everything you need to BOO your neighbors including some fun American Greetings Halloween cards and gift wrap.  Then put together these fun Halloween Pillow Boxes and BOO it forward.
Don't forget to get the Spider-Man Homecoming DVD & Blu-Ray on October 17th at Walmart.
Want to BOO someone who lives far away from you?  Now you can BOO it forward without even leaving your house.  This is a great way to send some Halloween love to family and friends who live in another state.  Walmart is making is super easy for everyone to create their own BOO Kits online.  Click HERE to get started.  Connor is so excited to do this for his cousins who live in Maryland.  They're going to be so surprised!
Oh my goodness!  We're having so much fun this Halloween with all our BOO'ing adventures.
Have a faBOOlous time BOO'ing all your favorite people this year.