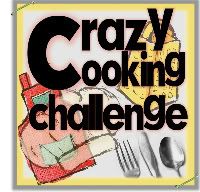 This month's Crazy Cooking Challenge was to share a smoothie recipe.  I've mentioned before that I struggle with finding healthy breakfast options that I can quickly grab as I'm running out the door in the morning.  So I decided to find a healthy breakfast smoothie that I could make for the hubby and me.
First off, don't judge this smoothie based on the way it looks!   It definitely tastes better than it looks!!
The chocolate silk and spinach give it the unappealing color.  I'm guessing the Vanilla Silk would prevent it from looking this dark but we prefer chocolate over vanilla so I went with the Chocolate Silk.
Recipe adapted from Geli's Goodies
1 cup of frozen berries
1 banana
1 cup of Chocolate or Vanilla Silk
2 cups baby spinach
1/2 cup water
Throw everything in the blender and blend until smooth.  Pour and enjoy!  I filled up four mason jars so we will have them for breakfast in the morning.
Check out all the other smoothie recipes linked up to this month's Crazy Cooking Challenge.