I'm always looking for easy and delicious casserole recipes to make on busy week nights.   I love that I can make them ahead of time and just throw them in the oven when I get home from school.  Last night I put together this squash, zucchini, and chicken casserole.  Then, today I came home from school and just baked it in the oven.
Easy-peasy!  My favorite kind of recipe!!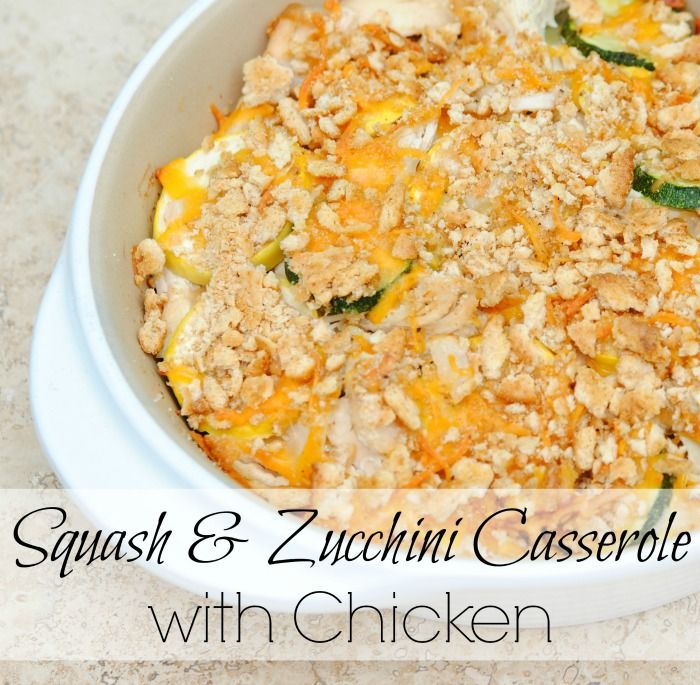 This is my new favorite casserole!  If you love zucchini and squash as much as we do, you will love this recipe.  It is delicious!!
Oh look at all those exclamation points.  That should show you how excited I am to share this recipe with you.
Ingredients:
4 cups sliced zucchini
4 cups sliced yellow squash
2 cups cooked chicken – chopped
1 teaspoon salt
1 teaspoon pepper
1 cup onion – diced
1 cup reduced fat cheddar cheese
1 cup crushed whole wheat crackers
4 tablespoons butter – melted
Directions:
Preheat oven to 4oo degrees.  Spray a 9 x 13 baking dish with cooking spray.
Cover bottom of dish with half of the zucchini, squash, and onion in layers.  Add half of your chicken and sprinkle with half a cup of cheese.  Season with half teaspoon salt and pepper.
Repeat layers ending with cheese.  Season with the rest of the salt and pepper
Top with crushed crackers and drizzle with melted butter.
Cover and bake for 30 minutes.  Uncover and bake for an additional 10 minutes.
I've found a few other awesome quick fix casserole recipes that are perfect for busy nights when you just don't have time to cook.  Plus, they don't require a lot of ingredients – which is a major plus for me!
Italian Chicken and Rice Casserole by Seven Alive / Pot of Gold by The People's Chemist/ Chicken, Potato, & Green Bean Casserole (please let me know if you know the original source) / Taco Casserole by The Kitchen Life of a Navy Wife / Pizza Casserole / Chicken Noodle Pot Pie Casserole by Lady Behind the Red Curtain
Do you have a quick fix casserole recipe?  Please leave me a link in the comments below!  I need all the ideas I can get.