I have to start by saying these are DELICIOUS!  Especially if you love peanut butter and chocolate as much as we do!!
And the best part – they are super easy to make!
Just make your favorite peanut butter cookie recipe.  While they are cooking, remove wrappers from peanut butter cups.  When cookies come out of the oven, let cool for a few minutes.  Remove cookies from cookie sheet and place on cooling rack.  As you place cookies on cooling rack, put a Reese's Peanut Butter Cup between two cookies to form sandwiches.  Let cookies cool completely.
Then enjoy these delicious Reese's peanut butter cookie sandwiches!!
Now that I have you craving peanut butter and chocolate, check out all the other peanut butter recipes linked up to Get Your Chef On link party.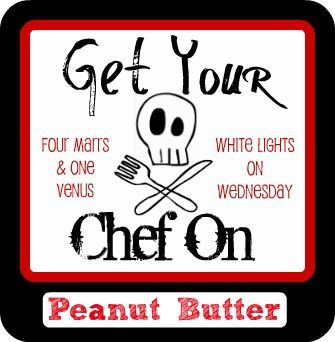 Thanks Jen @ Four Marrs and One Venus and Julie @ White Lights on Wednesday for hosting such a fabulous party!