Does comfort food get any better than this?

This is the perfect time of year for both chicken pot pie and mashed potatoes so why not combine the two! I think I could live off of this recipe for a week.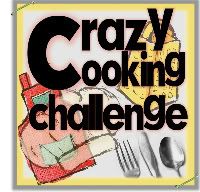 The Crazy Cooking Challenge this month over at Mom's Crazy Kitchen is mashed potatoes. And since I love making one dish meals during the week I decided to combine mashed potatoes with my favorite chicken pot pie recipe.
My easy chicken pot pie recipe is:
1 can of Cream of Broccoli soup
1 can of Cream of Celery soup (Heart Healthy)
3/4 cup milk
1/2 tsp. poultry seasoning
1/8 tsp black pepper
2 cups cooked chicken cut up
16 ounce bag of mixed vegetables (I like a lot of veggies)
Directions: Heat oven to 400 degrees. Mix all ingredients in baking dish. Cook for 20 minutes.
How easy is that?
Instead of adding a layer of a crust over the mixture, I decided I would add a layer of mashed potatoes. Doesn't that just make your mouth water?
I found a great blog called One Savory Life that not only shares an amazing mashed potatoes recipe but also shares some awesome tips for making the perfect mashed potatoes. You have to check it out!! Jessica also shares some other yummy recipes that you will definitely want to try.
Jessica from One Savory Life's Amazing Recipe for Mashed Potatoes:
12 medium russet potatoes (about the size of your fist), peeled and diced
1 stick butter, room temp is better
splash of milk
Seasoned salt
Peel and dice potatoes then place in cold water. Bring water to a boil, add some kosher salt (an extra opportunity to season the potatoes). Boil until potatoes are fork tender. I let mine go until they completely fall apart with each poke of the fork. Drain potatoes and place back in the hot pot. Cook on medium for a few minutes, stirring constantly. This will help evaporate any leftover water so your potatoes don't end up runny. Runny potatoes are a big problem! Combine potatoes, butter, garlic, sour cream. salt, seasoned salt, and pepper to taste. Mix on low until large lumps are gone. Add milk until potatoes are at desired consistency. Press down cubed butter into the potatoes and sprinkle with extra seasoned salt. The butter will melt and make them extra delicious.
If you decide to make these mashed potatoes please visit One Savory Life and show her some love!
Once I removed the chicken pot pie from the oven I just spread the mashed potatoes over it. These mashed potatoes were the perfect addition to layer over chicken pot pie.
We all loved this and I have plenty left over to pack for lunch! I will definitely be making this again.
So what is your favorite comfort food on these crisp, fall nights? Please share because I need some new dinner ideas:)