I was thrilled to be a creative guest on
Ucreate for Kids
this past Friday. If you get a chance, check out the Grocery Store Activity I created.
I absolutely love this blog so much. Elizabeth shares some great activities that you can easily create with your children. Kids of all ages will enjoy ideas shared on this blog!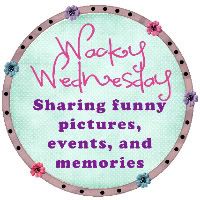 My friend Melissa at Just the 3 of Us and I have decided to start a Wacky Wednesday blog hop party. We are hoping you all will share some funny quotes, events, and memories. Mine will be mostly about my 2 year old son, our crazy dog and klutzy husband. So start thinking about what you would like to share and be ready to link up on Wednesday.
I can't wait to laugh at all the funny things people post. It's going to be so much fun!!